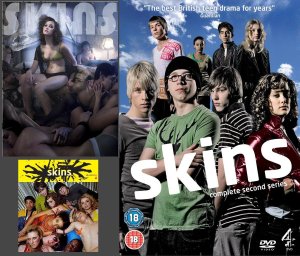 Skins is a television series which first aired in the United Kingdom in 2007. It launched in the U.S. in 2008.
About the Show
The series Skins focuses on a group of teenagers living in Bristol, England. The adolescents are dealing with issues such as drugs, sex, eating disorders and racial tensions.BBC America: Skins1
Youth Appeal
Creator Bryan Elsley maintains that the actors will be replaced once they are older than 18 or 19, to keep the actors close in age to the audience. This means that almost the entire cast has been replaced for season 3.New York Times: A Show Written for the Young by the Young (August 15, 2008)
Idk if you guys are familiar w/ this drama but its one of the Best tv series i'v seen (season 1 &2 imean w/ its orig cast).
If you guys like Gossip Girls well you will definitely LOVE Skins! They're BADDER & much much more BOLDER!